You're invited to a 2019 collective reflection!
Like Secret Santa, but you get a piece back from everyone else :)
Dear Lunch Box friends,
As we approach the end of 2019 and into a new decade, I just want to spend our last few days in collective reflection. First, I'd like to offer my love and gratitude for being on this list. Lunch Box started from a (too) bold mission to release on a weekly basis, but as you know our 20s are so batshit crazy, and too often I picked having an anxiety attack over sitting down to write a love letter. Nonetheless, we reached a small, humble achievement of 10 issues this year, with this being the 11th and final edition!
In the last edition, I spoke to you about walking out of the end of my trauma tunnel, and into the new light of having a normal life (or so) again. I am immediately humbled by the subtle daily challenges, like things not progressing in a pace I expect or situations that require me to be patient on the other party, especially if that person is a family member or a good friend.
I then spoke to you about building new habits and to deepen my relationships with others, like carving out a weekly 2-hour phone call with my best friend. I also talk about finding joy and structure in a journaling habit. The journaling habit propeled me into cooking healthy meals at home, calling friends to catch up & to see them on weekends, spending more time with my partner, and most of all develop a regular yoga practice.
So those are the pretty parts of my 2019. They are note-worthy not because they are pretty, they are so much more in that they are products of a deep faith in wanting things to get better. And a relentless drive to iterate and find what feels good. To have my cake but to eat it meaningfully, and to cut out pieces and share with friends. And then bake a new & better one and share it again.
To my best friend — I thank you for the immense patience you have and for all the phone calls you have indulged me in. Thank you for your graceful emphaty, to your patience and to your collaboration.
Lunch box friends, this best friend of mine is a work of art — my favourite part of our relationship is our drive to push each other for more, because we share a deep faith in wanting the best for our lives. That includes sharing journal prompts, offering therapy time to each other, and learning from each other's mistakes. We share our darkest emotions, our most vivid and violent dreams, our biggest fears, and most importantly the lessons that propel each other into enrichment and wellbeing.
My friend, I hope you have such a person in your life too. But if you don't, here is my invitation to hold your hand. If you're feeling brave, please reach out, and let me know how I can support you in your next endeavour. For 2020, I'm challenging myself to explore my vulnerabilities and open my heart to more of those around me. If you're on this list, then I know you'll be safe with me, and I to you.
Before we close off the year, I'd like for us all to participate in a collective reflection. When you receive this email, please reply to me with answers for prompts below. On the first week of January, I'll post all your responses via Lunch Box and we can all get a collective snapshot of what it means to be a lunch box friend to each other, and maybe we'll even realise we're really not so different from each other :)

It'll be like Secret Santa, except everyone gets a piece from everyone else!
Just fill it in here: https://helenang180031.typeform.com/to/BzUSBi
I'm so excited to hear back from you. Until then, season greetings & happy new year!
What's In The Lunch Box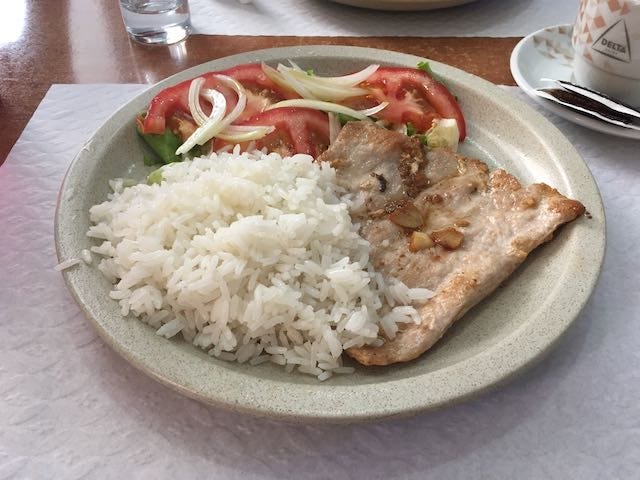 Throwback to a humble lunch I had while visiting the Sintra Castles near Lisbon, Portugal. Pictured here, a super thin turkey steak, some vegetables tossed in vinegar and (I think it's slightly oiled) rice. Super tasty, super humble!
---
Love & toast,
Helena.